Masses adorned in their most summery frocks bustle on 5th Avenue. Sitting on the steps of the Met, the sun gingerly peeks through cumulus puffs of cloud.
It's an idyllic Saturday afternoon in June.
Felt like a Black Blair Waldorf.
Strewn across the Mid-Atlantic seaboard pursuing varying professional and graduate ventures in Boston, NYC, Philadelphia, and D.C., a handful of my collegiate amies rendezvoused in Manhattan this weekend for a day of cultural enrichment and fellowship,
and
gossip and spirits.
In the midst of enjoying frozen yogurt and fresh fruit, a considerable portion of it melted and dissemblingly puddled on my flamenco inspired floor-duster. Before my mood had a chance to sour I was embraced from behind by the rest of my friends who had finally arrived. Elated to see one another, we enthusiastically greet and ascend the steps to our first destination.
Hauntingly beautiful as the Kate Moss for McQueen
Fall/Winter 2006
ethereal piece envisioned by the late designer,
so is the comprehensive portrait
honoring Alexander McQueen's body of work, "
Savage Beauty
," presently exhibited at the Costume Institute denizened within New York City's
Metropolitan Museum of Art.
"a rare breed"
"a schizophrenic romantic"
"fashion, but artistry...
he was artistry"
These were the hushed fragments overheard from admiring patrons as they ambled about the museum's marbled halls. Holland Cotter of
The New York Times
coined McQueen "
designer as dramatist
." More so than any modern designer McQueen utilized his sartorial gift to design extraordinary garments with art as the utmost intention. A kinetic pensive; an inspired fecund, McQueen had
something to say
, an opinion, something to convey.
Fashion was his vehicle.
"I kind of like it the way it is right now ... I don`t really believe in flooding the market with loads of goods that don`t mean much and [losing] your identity." -McQueen
Romanticizing the Napoleonic; the Victorian; nihilism; nature; primitivity; exoticism; brokenness; darkness; lyricism, "Savage Beauty" is punctuated by compartmental rooms, conveying the artistic perspective of McQueen's collections. Each room articulated by apt mise-en-scène, transforming the artful collections into spectacular installations.
A particular room showcased a collection inspired by notoriously spookish film director Tim Burton. Spectral melodies sounding the background, envision a lassitude
Ichabod Crane
donning each cowl. Exiting another room marked by broken beauty and introspection per the controversial
Highland Rape
collection, I was taken aback and transfixed by a
blanched, yet lucent dress
made of hundreds of layers of raw-edged silk organza, elevated within a cut-out; juxtaposed against utter blackness; cater-cornered in solitude.
Breathtaking
.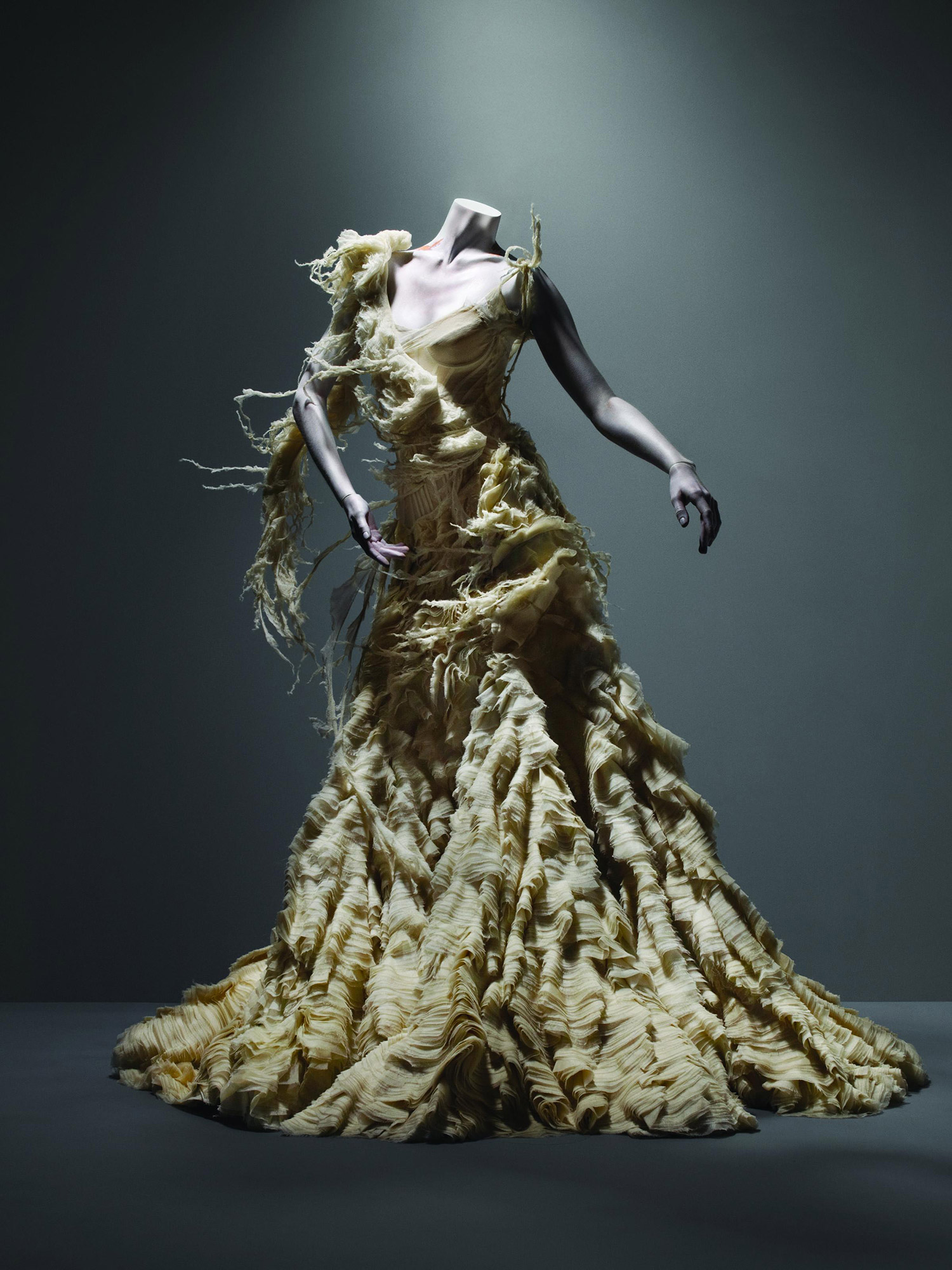 Mordant fashion purists caustically regard the post-mortem en bloc adulation of Alexander McQueen's genius as sycophantic.
But if McQueen's artistic voice can illumine the ingenuous and render the insular holistic, his art's purpose has been served.
"Savage Beauty," a fitting coda to his spirit.